Lifes Abundance Holistic Food
Why is Life's Abundance Better?
Life's Abundance foods are veterinarian-formulated with select ingredients help your dog achieve optimum health. We use a "fast-cook" process at low temperatures to help preserve the nutritional value of each and every wholesome ingredient. And we maintain strict inventory controls to ensure the quality and safety of our foods.
Life's Abundance foods are made with the finest ingredients, including …
A proprietary blend of vitamins and minerals
High-quality protein from chicken meal for strong muscles
An antioxidant system including vitamins A, C and E.
A selection of nutritious vegetables and fruits.
Omega-3 fatty acids for healthy skin and a shiny coat.
Calcium and phosphorus for healthy teeth and strong bones
Dietary fiber to help maintain a healthy digestive tract.

Since we use only wholesome ingredient, this formula contains …
No artificial flavors
No artificial colors
No corn or corn gluten
No wheat or wheat gluten

Life's Abundance delivers concentrated nutrition in every bowl.
A balanced blend of calcium and phosphorous to support growing and aging bones.
Our kibble has tested extremely positively with both puppies and adult dogs, regardless of breed or size.
Optimal protein levels for growing puppies and adults.
Unique blend of antioxidants that support dogs throughout their life cycle.
Choose Life's Abundance for your dog because a recipe for a better life is more than meeting minimum requirements.
* For the Boxer breed we recommend Lifes Abundance "All Life Stages" or "Large Breed Puppy..

* For the Pug breed we recommend Lifes Abundance "Small/ Medium Breed" or
"All Life Stages".

* Please know that we do not recommend grain-free. There have been several studies linking grain-free to heart disease.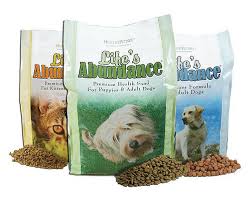 To call and place your order...
877-387-4564
Please use ID Number when placing your order: 20055484
Shipped Fresh to your door:
Life's Abundance is not sold in stores. You can choose how much food is shipped to you at the frequency you need, ending the problem of accidentally running out of food. This also ensures that your dog is getting fresh food that has not lost it's nutritional value. There is no start up fees and you can change or cancel your order anytime. Your order will arrive via UPS and is usually never more than 6 weeks old.