AVAILABLE BOXER PUPPIES

Please stroll down to view our available puppies

Please go to our "
Upcoming Boxer Litters_
" page to view our upcoming Boxer Pairings and to make a reservation on your favorite litter/pairings

AVAILABLE... $1950

Update... We have one available Boxer Puppy left from Jersey and Drogos litter.

This litter was born Oct 27th and goes to their new homes Fri Dec 22 at 11am
The deposit to reserve this beautiful baby is $250 Zelle or $262 ($250 deposit and $12 Paypal processing fee)
The $250 deposit does go towards your puppy purchase.
Please contact us if you are interested in reserving her to make sure that she is still available.
720-490-0380 /kloud9boxers@q.com

Tails have been docked and dew claws removed

Purple Ribbon is a Classic Fawn Female

Pictures have been updated Nov 21, 2023
Puppies are a little over 3 weeks old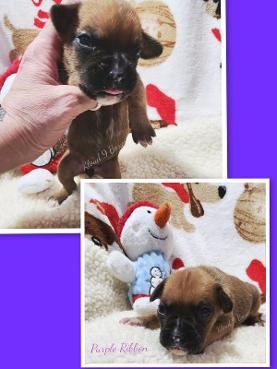 HAVE YOU ORDERED YOUR NUVET ?
* Continue the care that we have been providing your puppy
* Immune System Builder with a Supplement in it
* Made in the USA


Now Taking Reservations On Our Upcoming Litters
Please go to our "Upcoming Boxer Litters" page or our "Upcoming Pug Litters" page to see our upcoming pairings. If your interested in reserving a spot on any of our upcoming litters, please go to our "how to reserve your puppy" page.
We no longer allow visits prior to picking up your puppy or to view any available puppies that we may have younger than 8 weeks.
We have made this our policy for the following reasons:
We have been advised by our vet that the general public should not be allowed inside our home and that puppies should not be picked up by new owners until they are 8 weeks of age at which time they have had their first puppy vaccinations and some immunity has built up against infectious diseases and illnesses. There is a real danger that diseases can migrate into our home and puppies that are not yet vaccinated will be susceptible to these viruses and bacteria.

In the best interest of our puppies and adult Boxers, we are very careful about preventing the transmission of diseases to them. We take every precaution that we can to make sure that our puppies are not exposed to any kinds of disease that you may carry on your shoes or even on your hands. These diseases can be picked up and carried on your shoes for days, anywhere a dog has been, parks, pet stores, rest stops, parking lots, anywhere. Therefore as a precaution no one is allowed to touch or handle or visit while un-vaccinated puppies are on the premises.

Copyright © 2002-2023 Kloud 9 Boxers
All Rights Reserved