Kloud 9's Training Packages
We offer training for puppies at: 6 months old and older
Basic Obedience Training Package for $1800
We believe that the earlier formal training begins, the quicker and easier the dog becomes established as a well liked member of the household. Early training will usually help to eliminate some of the annoying problems often associated with owning a puppy. While learning the basic obedience commands the dog is also adding length to the attention span.
ABOUT THE PROGRAM

The Kloud 9's In-Kennel Basic Obedience Puppy Training Program is for Kloud 9 puppies ONLY and is approximately a 4 - 6 week training course used to familiarize the puppy with the following basic obedience skills: on-leash control, heel on lead, sit, down stay, sit stay, down, come, 'go to place' and a release command.

Package also includes; Mid-Training report card via e-mail and a complete follow through 1 hour training with client(s) by Kloud 9 Trainers on the day of puppy pick up.
* We gear our obedience training requirements to closely follow those set forth by the American Kennel Club*
While staying with us, puppies are handled by different individuals to ensure they respond to others. They are worked around other dogs and different types of distractions to be sure they will respond to commands in various situations.

We stress owner involvement. Put simply, no training program is effective if life at home is not consistent with the training environment.
We lay the foundation for you and your puppy to build upon. Continued success will be dependent upon you working with your puppy for at least 10 - 15 minutes a day EVERYDAY.

If you're interested in the training package, understand that they will always be puppies until they are about a year and half. They will not fully mature until they are about 2 or 3 years old. What we offer is a fantastic start for an inquisitive puppy to learn and to develop knowledge and thinking that will last them a lifetime. Once you attain the puppy to be in your home, they will have the skills and behavior to give you and your family a wonderful experience throughout puppy hood.

We offer slip collars and leather leads for an additional cost
Training for 2022 is full...
We are now accepting reservations for 2023...
PLEASE CALL FOR AVAILABILITY
720-490-0380
RESERVE YOUR SPOT FOR OUR TRAINING PROGRAM
To reserve your spot for training, we will need the Training Package Application filled out and for you to place your training deposit
To place your deposit for your Puppy/Dog training package... Use the paypal link.
Deposit is $524.00 ( $500 deposit for training and $24 paypal processing fee). The deposit of $500 goes toward your training package.
Kloud 9's Training Package Deposit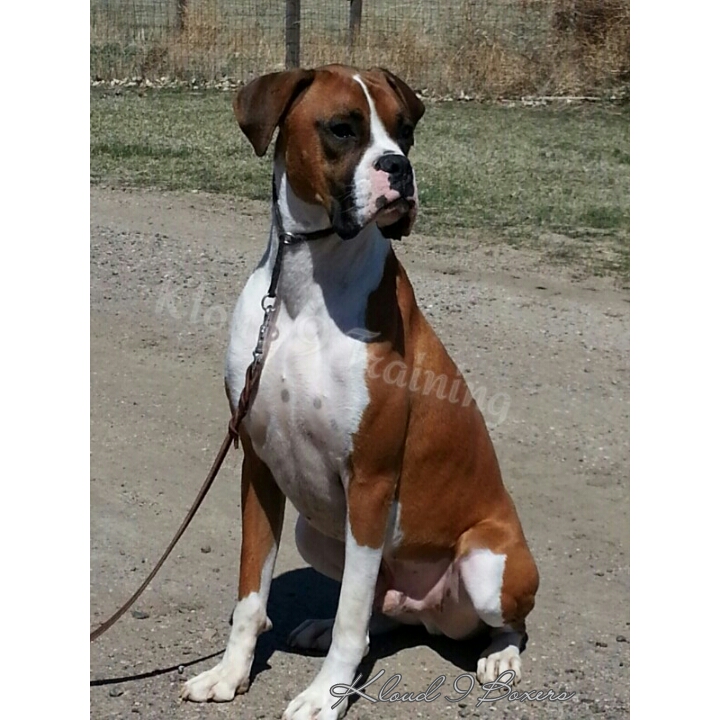 $ 524.00 USD
Kloud 9's Training Deposit of $524.00 (Training Deposit $500 and Paypal processing Fee $24). The $500 deposit goes toward your training package. Deposit is non- refundable