AMAZON STOREFRONT
&

On this page we will give you some helpful ideas to not only prepare you for your puppy but to help you guide your puppy to a well adjusted dog
Brain Games for Dogs Mental Enrichment

Here at Kloud 9 we love using Interactive Feeders ( feeding puzzles) for at least one of our dogs meals (usually breakfast). Feeding puzzles offer a way for owners to provide enrichment for their pets and encourage mental stimulation. Feeding puzzles can make eating an interactive activity rather than just a source of nutrition . We rotate our favorite puzzles daily.

You want to make this a positive experience for your dog/puppy.

They say 20 mins of mental stimulation is the same as 1 hour of physical. Mental stimulation can sometimes be more exhausting for them than physical exercise (Please know that we still encourage physical exercise). Feeder puzzles allow our dogs/puppies to use their paws and noses. It requires them to throw it, lick it , sniff it, tip it, and roll it for their kibble to come out or to find their kibble.
We use the dogs kibble in the puzzle feeders. We measure out what the dog would eat for breakfast or dinner and put it aside... We will then fill up the puzzle as needed.
Please visit our Amazon Storefront to see the feeder puzzles that our dogs enjoy...
PLEASE KNOW THAT THESE ARE JUST SUGGESTIONS AND WHEN USING FEEDER PUZZLES WE ARE RIGHT THERE WITH OUR DOGS NOT ONLY TO SUPERVISE BUT TO GIVE POSITIVE REINFORCEMENT

Kloud 9's Amazon storefront... A way to share some of our favorite amazon products. Products that we use on a daily basis. As an Amazon Associate I earn from qualifying purchases.

Click Link ⬆️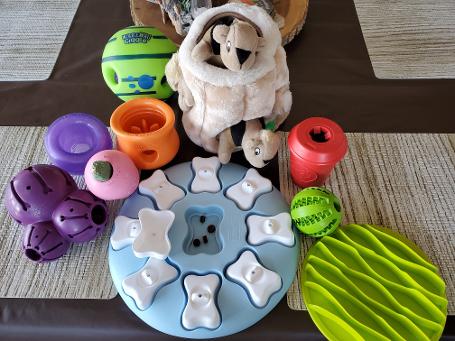 Just a couple of videos of our dogs using feeder puzzles
Click box lower right corner to open bigger