2014 KLOUD 9 BOXERS CALENDAR
For 2014 we will be doing two different BOXER ONLY calendars
Puppy Calendar - for Boxers under 1 yr old
Adult Calendar - for Boxers 1 yr old and up
Calendars are $27 each if ordered before Dec 1, 2013. Price includes calendar, shipping, handling, tax and the paypal fee
We will start shipping the calendars beginning of Dec. 2013
This calendar is made up exclusively with photos of Kloud 9 Boxers. The photos were submitted from our Kloud 9 Families. We feel this calendar is a memorable way to share and enjoy your photos with everyone.
**If you haven't already submitted your Kloud 9 Boxer photo with your Boxers birthday, please do so via e-mail kloud9boxers@q.com **
DEADLINE TO SUBMIT PHOTOS IS Nov 1, 2013

SUBMITTED PHOTO RULES :
* Please specify your boxers birth date when submitting the photo so we can review it for the proper calendar. As well as placing your boxers birth date in the calendar. PLEASE remember that not all photos will be able to be used.
* This is a Kloud 9 Boxers Calendar... Please submit only pictures of your Kloud 9 Boxer(s). No humans please.
* Pictures from phones may not work due to the sizing of the calendar so please try to only submit pictures taken from a camera.
* You can send in a variety of pictures ( regular pictures and/or Holiday pictures). Dont forget the less obvious Holidays like... Labor Day, Halloween, Veterans Day...etc
Please note... We will not be able to use all the submitted photos
PRE-ORDER YOUR 2014 KLOUD 9 BOXERS CALENDAR NOW !!!
HOW TO PRE-ORDER YOUR CALENDAR

To pre-order your 2014 Kloud 9 Boxers calendar, fill out the order form and then go to the paypal link on this page to make your payment.

2014 Kloud 9 Boxers Calendar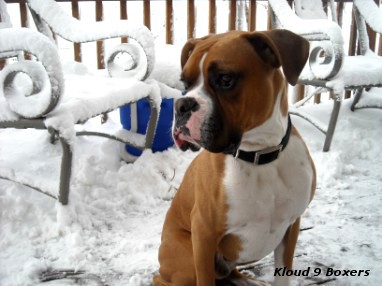 $ 27.00 USD
The Calendars are $27.00 each. They must be paid for one at a time.